These Fabric Gift Bags and their shop have been compensated by Collective Bias, Inc. and its advertiser, Mars Wrigley Confectionery US, LLC. All opinions are mine alone. #SweetnessToShare #CollectiveBias
It's fabric gift bag week here on the blog (or so it seems, right?). Today's tutorial is for these fun bottle-sized bags that have ribbons to tie them closed. They're so versatile and lined, too. Check out the tutorial below.
I struggle with mom guilt, y'all. I am kind of an extreme introvert and, well, a bit of a workaholic, too. Because of this, I'm not a room mom, or a team mom, or a school volunteer. Don't get me wrong, I'm at all of my kids' activities, etc., but I hung up the PTA hat a few years ago. I tend to compensate by buying my kids' teachers and the other volunteers of their school and organizations fun gifts year round (and especially this time of the year). It somewhat serves as a way to ease my guilt...plus, let's face it, who doesn't love a nice treat? It's a nice way to say thank you. I put together gifts for everyone with my load of mom guilt hanging over my head. These fun fabric gift bags are filled with the cutest
MARS® Celebrations® candy-filled bottles...they're for my youngest's dance teachers. He's been in hip hop classes for three years, but I may or may not be the mom who sits in her car in the parking lot during rehearsals. To actually say thanks face-to-face, I feel like I better not come in empty-handed, right? These candy-filled bottles are perfection for this. See how I made their fabric gift bags below.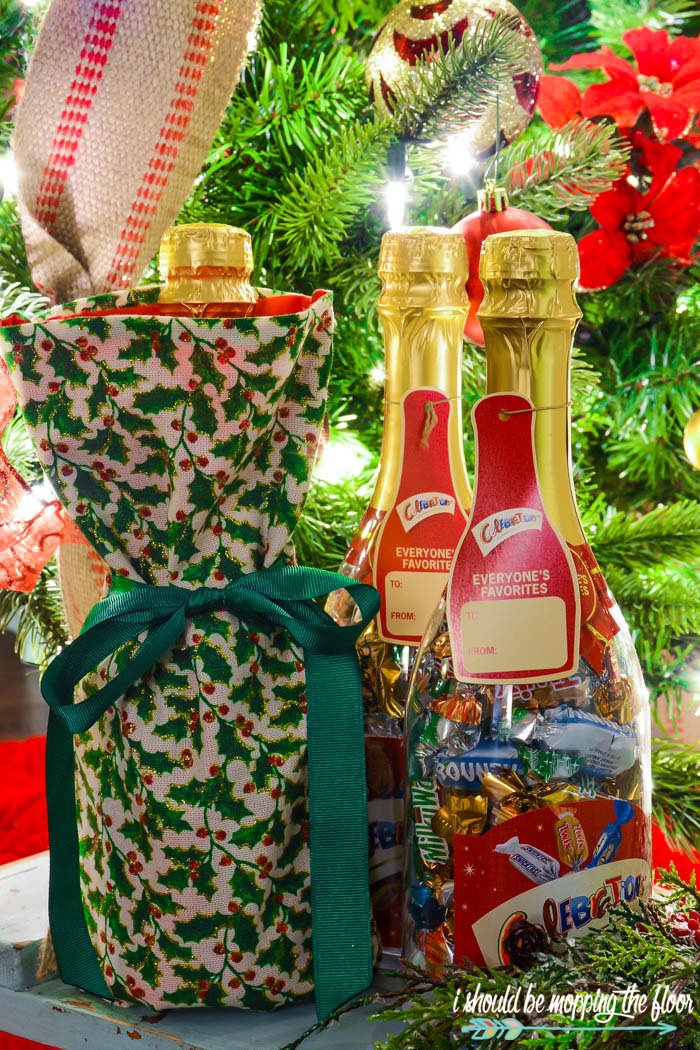 You can click on the above photo to purchase your own
MARS® Celebrations® Bottle
. They are such a neat gift this season. I have a feeling our three college-aged dance teachers will love them!
The bottles include a fun variety of candies like DOVE® Chocolate, TWIX®, SNICKERS®, MILKY WAY®, and Bounty® (

not all bottles will have the same varieties).
Now, let's make these fabric gift bags for your Celebrations® bottles. They're a great way to dress up any gift...plus the bag is reusable later.
You'll start with two coordinating fabrics (one lining and one outer fabric). Cut each of the fabrics into an 8"x26" rectangle. Place the two rectangles right sides together. Pin or clip three sides of the fabric together (leave one shorter side of the fabric unpinned, you won't be sewing it closed, yet).
You'll also need one-inch ribbon (about 18" long), thread, and clips or pins (as mentioned above). Set your sewing machine to its basic stitch.
Take your two pinned together rectangles (right sides facing each other!) and, with a quarter inch seam allowance, sew three sides closed, with a back stitch at each end. You'll leave one of the shorter sides open.
Clip the two sewn corners off, so you'll be able to make crisp points when you turn it. Be careful not to cut any of the stitching.
Turn the piece right side out and give it a good press with a hot iron. Push out your corners, too. If you'd prefer to not have any seams showing, you can hand stitch the open side closed. I just did a decorative topstitch on both ends to make them match (I sewed a quarter of an inch inward from the edge)...folding in the unsewn seam about a quarter of an inch before sewing (as pictured above).
You'll add the ribbon about six inches down from one of the ends. It's really just a decorative ribbon, but the way it gathers up the fabric makes it almost look like a Santa sack. Cut your strip of ribbon into two pieces. Pin the ribbon against the edges of the outer fabric (don't pin too close to the edge, since you'll be sewing the edge and catching the ribbon). Gather the ribbon's other ends up towards the top and out of the bag, so they don't get stitched in the process.
Fold the entire piece in half, with the lining on the outside. Clip or pin in place. Use a basic stitch on each of the long sides of the piece to close the bag (with a small backstitch at each end). Turn right side out (be careful of the pins holding the ribbons in place). Remove all pins.
It's a super simple bag, but fantastic for gifting this season. And it's the perfect size for the

Celebrations® Bottles. Tie the ribbon to keep the bag in place.
This season, t

reat them to the sweetest gifts.
These yummy treats are so thoughtful, but easy to put together...especially using these fabric gift bags.
Oh, and these

Celebrations® Bottles

are pretty nifty, too, y'all. Just remove the bottom and it acts as a stand for the inverted bottle. This is a cute candy dish for the season.
The bottles have these sweet little tags, too.
Grab these Celebrations® Bottles at your local Walmart in the seasonal candy aisle. Click HERE for more information.
Happy Celebration Season, friends!