This DIY Mobile Printer Station has been compensated by Collective Bias, Inc. and its advertiser.
All opinions are mine alone. #CreateWithHP #CollectiveBias
We're getting the house in order for school to start in a couple of weeks. This DIY Mobile Printer Station is perfect for all of us to share...especially our almost-teenager who seems to have more computer homework every year. The older he gets, the more involved the assignments get. This little station is perfect for him to work with, no matter where he is.
Last year, we realized very quickly that having our middle schooler just borrow one of our computers for homework was not going to work. My husband is a high school principal and can't always spare his for various reasons...and I feel like I'm on mine quite a bit, too. But gosh...all of the homework was online textbooks, or printouts, or something involving a computer. We grabbed a great HP laptop for him, and it's worked great. As we head into this year, we've equipped him with the matching printer. But since it's technically for the family to share, we put together a DIY Mobile Printer Station to make it easy for everyone to use in their own work spaces.
This little DIY Mobile Printer Station is working out really well so far. It technically "lives" in my office space, but it travels all over the house, depending on who needs to print.
I started with a 20"x24" wooden canvas (you can find these at most craft stores). I flipped it over to use the wrong side of it. I also used two drawer pulls for handles.
I gave the tray a simple aqua pickle wash finish (see yesterday's post here for an easy pickle wash technique). Then I installed the hardware so it would work as handles. I love using wooden canvases for trays...this is the third one in our home! They're so easy to make and really versatile.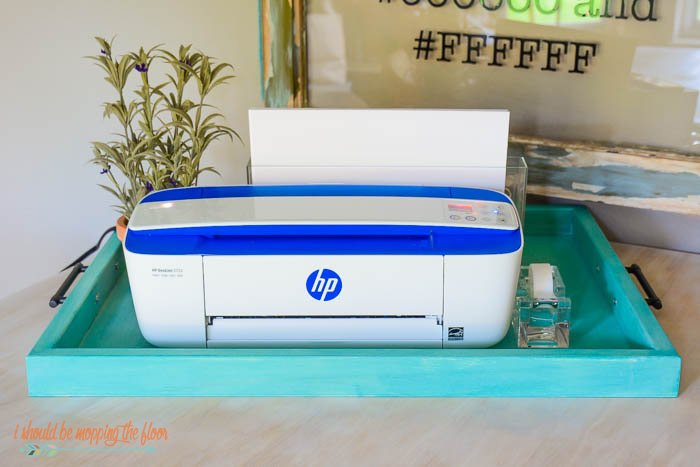 The heart of our mobile printer station is, of course, the printer. You can click or hover over the photo above to grab one of these for yourself. This
HP Deskjet 3722 All-in-One Printer/Copier/Scanner is the perfect printer for a station like this...it's actually the world's smallest all-in-one printer. It comes in three fun colors that are only available at Walmart:
Sporty Purple, Poppy Pink, and Dragonfly Blue (we went with the blue since it matched our son's laptop). It was budget-friendly, too, making it perfect for our family's printing needs...because, let's face it, middle school homework is like 90% of our printing. That stuff is no joke. It's also wireless and can print from our smart phones and tablets, too. We can even print without the network.
Also in the tray, I placed an acrylic desk organizer for printer paper and other small office supplies we may need as we print.
One can never have enough paper clips in one's life. Wink.
I also added tape...because I'm kind of a tape junkie. I also get tired of my people creeping into my craft space and steeling my fancy rolls of tape. Having a designated family tape dispenser will hopefully nip that little situation in the bud.
When the printer is in my office, I always send some of my printables to it for test runs.
And when we're not printing, the paper trays both slide into the printer for a cute, compact look.
Again, we grabbed our

HP Deskjet 3722 All-in-One Printer/Copier/Scanner

at Walmart. We found it on an end cap. Right now, a lot of Walmarts are doing demos of this cool printer. Most take place Friday-Sunday, so be sure to head to the printer area of your Walmart to see this baby in action. Click here to see this one online, too.
Are you ready for back to school?