This Lined Zipper Pouch PouchTutorial and its shop has been compensated by Collective Bias, Inc. and its advertiser.
All opinions are mine alone. #MyGo2Pen #CollectiveBias
If you're intimidated by sewing zippers, this lined zipper pencil pouch tutorial is perfect for you. It makes a darling gift for any teacher or student. I've also included a coordinating free printable gift tag you can include when giving this fun pencil pouch. Because, who doesn't love a good pencil pouch, now?
I'm kind of ecstatic about how cute this pencil pouch turned out. I lucked into this fun composition notebook paper fabric and they kind of took on a life of their own. I alternated the lining and outer fabrics on each pencil pouch to make them even more fun. Honestly, I couldn't stop making these, so I just reversed it to keep things interesting.

And who wouldn't want a cute lined zipper pencil pouch filled up with their favorite pens (or pencils, I suppose)?
But seriously, I'm filling these lined zipper pouches up with Pilot G2 Premium Retractable Gel Ink Rolling Ball Pens. Who else is in love with these pens? My husband has used them for years and definitely made me a convert. He jokingly calls these "the official pens of David Dominguez". But seriously. These pens are everything. They make me feel confident writing with them...I never worry my lettering will look off (and for a neurotic graphic designer...that's kind of a thing to me). Gifting these to our new teachers will hopefully get us on their good sides as the school year kicks off.
The Pilot G2 is the brand for overachievers, y'all! They include four point sizes and come in 20 vibrant colors. It's the #1 selling pen brand in America (no surprises there). It's that smooth writing gel ink and comfortable grip that puts them way ahead of the pack.
Click on the above coupon to save on these fantastic pens.
Lined Zipper Pencil Pouch Tutorial
And once you grab your new pens, you'll need one of these lined zipper pencil pouches to put them in, right? These start out with two complementary fabrics and a zipper.
Lined Zipper Pencil Pouch Supplies:
2 pieces of outer fabric cut in 4"x 11" pieces

2 pieces of lining fabric cut in 4"x 11" pieces

1 10" zipper (the sizes of the fabric pieces are based on the zipper size. A pen or pencil pouch usually has a 10" zipper to make it easier to place the pens inside, so that's the best zipper for this particular project.)
How to Construct Your Pencil Pouch:
For this tutorial, I'm showing the lined zipper pencil pouch with the red composition notebook print as the outer fabric and the polka dotted fabric as the lining.
You will start by laying one piece of lining fabric face up. Place the zipper on top of the lining fabric, lined up to its top edge.
Lay one piece of outer fabric face down on top of the lining and zipper.
Make sure all pieces are lined up to the top evenly.
Pin those layers in place.
Place the zipper foot on your sewing machine. Most machines come standard with a zipper foot. These are a must for sewing with zippers...they allow you to get as close to the zipper as possible when sewing.
In order to navigate around the zipper pull you've sandwiched in your fabric pouch layers, you'll start sewing about an inch down from the pull...don't worry, we'll go back and finish the top in a bit. But, don't start at the very top where the pull is...start under the pull. Sew a simple basic stitch all the way down to the end (with backstitching at the beginning and end), with a quarter of an inch spacing from the edge.
The above photo better depicts the way that stitch works.
You can see how I started below where the pull is (it's directly under the red fabric).
I left the pin in place to show the area I didn't sew.
Remove the pin and open up the "unsewn" part of this. Unzip the zipper a few inches. Then lay all of the layers back into place. Go back to your sewing machine and stitch that area up (the zipper can't get in the way since it's pulled all the way down now). Be sure to backstitch at the beginning and end of your sewing.
Pull the red fabric back into place and start your layering again.
You'll lay one lining piece down, then top with the sewn zippered part.
Then on top of that lay one more outer layer (face down).
Pin all of these layers into place.
Once again, sew this all together. This time the pull will be at the other end.
You'll start sewing normally, and then stop an inch before the zipper pull. Open the fabrics and pull the zipper down and then go back and finish sewing that seam.
Open everything up and you should have a nice, functioning zipper, with outer fabrics and lining fabrics in place. Head to your ironing board and iron away from your zipper, carefully pulling your fabric as taut as possible so it lays nicely in the end. If you used a plastic zipper, use caution with the iron (you'll be super sad if it melts onto your pretty piece!).
Once your piece is ironed (don't skip that step...it's super important), head back to your sewing machine. You'll sew a nice top stitch on both sides of the zipper to give the pencil pouch a nice, polished look. I used white thread to make it pop against the red for this stitch. Your zipper pull is far enough from this stitch, that you can just sew this top stitch normally without stopping to pull the zipper down.
Super important...unzip the zipper at this point!
You're going to pull your fabric layers up to meet their counterparts (outer fabric with outer fabric, and lining with lining).
Lay the pieces down to form a rectangle. You'll notice the whole thing is inside out.
It takes a little finagling, but make sure your zipper is laying towards your lining pieces. This is tougher on the end where the pull is (plus the zipper is on the inside of all of this), so just fiddle with it until the zipper is all pulled toward the lining. Clip with binder clips (or sewing clips if you have those) on each end to keep the zipper from moving. Pin around the outer edge. But, be sure to keep a few inches "open" on the lining side. As you can see in the above photo, I have a few pins going the opposite way of the other pins over on the lining's edge. Don't sew that area closed. You will, however, sew all the way around the entire rest of your piece (I start and stop at the beginning and end of the opening part). You need to leave that spot open to be able to pull the entire piece inside out.
Head to the sewing machine and sew around that perimeter, except for the opening area (as mentioned above). There is a lot of bulk where the zipper is. I take my foot off the pedal and hand crank over these spots...careful to avoid the mechanical part of the zipper.
Once the perimeter is sewn (except that opening, as you can see above), clip the corners (all four). This will give you nice points on your finished pencil pouch.
Reach your hand through the opening of the lining and pull the entire pouch out.
I use a dullish-pointy object to push out my corners at this point.
Your pencil pouch is almost done! But, before putting the lining back in place, carefully close it on itself and stitch it closed (either by hand or carefully on your machine). Then push the lining into place.
Give your finished pencil pouch a nice press and it's good to go.
Now you can fill your pencil pouch up with your G2 Pens.
I may have pulled a couple of pens out for myself (glad I grabbed the 10 packs!).
They write so beautifully and make me truly want to make lists and fun things.
For extra fun, I added a couple of goodies to the zipper pull.
My
pom pom apple from yesterday's post
is a great addition to the pull.
And, of course, these free printable tags coordinate perfectly.
You can grab the

exclusive G2 pack assortments at Walmart in their back-to-school shopping area.
Be sure to grab a pack with the bonus FriXion Clicker pen, too. There are packs of just black pens or the colorful ones that I grabbed. Again, grab a coupon here.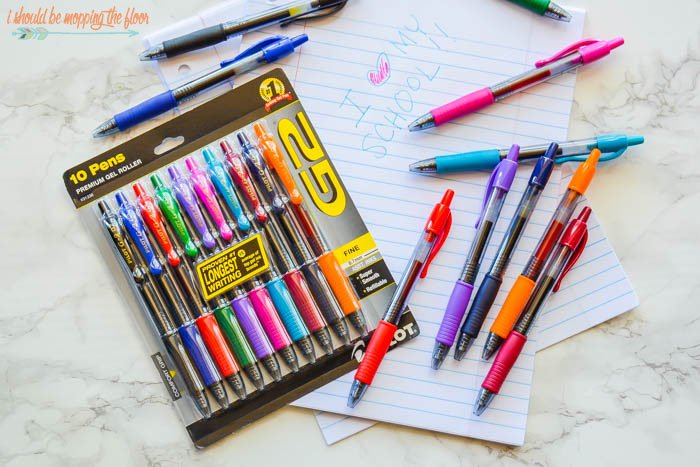 Use the above image to purchase these pens online.
Looking for more Pencil Pouch Tutorials?
Happy School Time, y'all!